CFNm Parties! BDay! Dallas! Naughty November!
There is lots of fun to be had! It just so happens that things will get turned up a notch this November. I love celebrating My Birthday, which is 11/22, all month long so be sure to visit www.SpoilSheri.com and find out how you can better serve Me!
The other main day of the month Id like you to note is 11/10 which is the day Our notorious DTLA CFNm Mistress Party returns! I wont be there but I am positive that if you go you can expect to have a kinky slutty fun time. The party has almost taken on a life of its own, the popularity keeps growing so that has to say something about Us! We have been throwing them for over 3 years, one of the years being at the Ivy Manor, somehow I always have more fun at the next party than I did at the last - which in My line of work is EXPECTED!
Two amazing events take place 11/10 both should be equally as amazingly devious! I will be returning to Dallas! Ill be there from 11/10-11/14 Ive gotten many emails since the last visit asking for Me to return so if thats you- book and deposit for a session before I become too busy! Maitresse Renee will be one of the hosts of the Dallas Fetish Ball and I will be joining Her as well as a few other Mistresses to get kinky & enjoy the party. I will be accepting sessions while I am in town! www.SheriDarling.com/sessions is were you can get complete info on requesting a session. I will also be accepting doubles and multi Mistress appointments for those with some guts who want to test themselves!
Do you have what it takes to please Me?
Do you have what it takes to serve Two Dommes?
Can you handle being dominated by 3 Goddesses?
We will soon find out. Taking sessions. Shooting videos. Using slaves as amusement. Ill also be attending the Dallas Fetish Ball and if you approach Me at this event plan on bringing your tribute too! ;p I will have more information soon but mark your calendar and come serve Me at Maitresse Rennes Dungeon for an evening of some CFNm fun! Check back for an update on time, tribute etc.!
Happy Birthday Mistress Sheri http://clips4sale.com/57281/16570936 If you are too dumb to figure out which present to send Me then use the chart below to add a tax code to your video purchase when you collect My videos at www.iwantSheri.com Just type the code in using all CAPS when you check out. Come to think of it you should actually be paying 5x as other smarter slaves shouldnt you? Use tax code SPOILSHERI to pay 500% of your cart total until after My birthday & Ill consider it your gift, worm. Go binge!
Take a look at the links below where you can find videos that a few of the Mistresses who will be in Dallas that weekend of the 11th/12th & I have produced for Our clips stores & collect them all! Be sure to check back for the possibility of some hot new content being shot while We are together! If you have a custom video request that you would like to inquire about please visit www.iwantSheri.com and view the custom video options before you send an email to Sheri.Darling13@gmail.com asking questions. Whipping slave Part 1 of 2 http://clips4sale.com/57281/14856237
Whipping slave Part 2 of 2 http://clips4sale.com/57281/14856273
3 on 1 slave training & punishment whipping http://clips4sale.com/57281/14853117
Interrogating the captive http://clips4sale.com/57281/15047441
Mistresses Smoking Cigars http://clips4sale.com/57281/14833851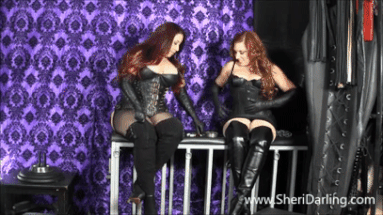 captive gets busted http://clips4sale.com/57281/15055155
Mistresses in Leather Opera Gloves http://clips4sale.com/57281/14797313
boot bitch for Mistresses http://clips4sale.com/57281/15060579
www.SheriDarling.com www.SpoilSheri.com BDay is 11/22 www.iwantSheri.com www.niteflirt.com/SheriDarling www.clips4sale.com/57281 www.twitter.com/Sheri_Darling www.instagram.com/MissSheriDarling www.SheriDarling.Tumblr.com
Serve Me!